Where is ABERCROMBIE CAVES?
CLICK ON MAP TO SEE MORE DETAILED MAP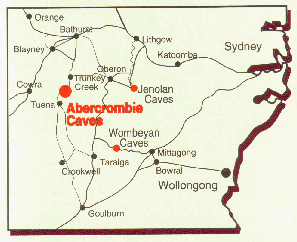 The Abercrombie Caves and Reserve are situated in the Central Tablelands of New South Wales, just off the main road between Bathurst and Goulburn, some 283 kilometres by road west of Sydney. The turn off to the caves is 72 km south of Bathurst and 122 km north of Goulburn The Caves are 3km off the main road.
From Bathurst the turn-off is 13km beyond the township of Trunkey Creek. The road from Bathurst is fully sealed all the way.
From the Goulburn side, the suggested route is via Crookwell, Binda and Tuena. About 10km of this road remains unsealed. The turn off is on the right, 16km beyond Tuena.
It only takes about one hour to drive from Bathurst and between one hour forty-five minutes and two hours from Goulburn, depending on road conditions.
From several points on the road near the Abercrombie River the scenery is quite special. The Abercrombie Ranges unfold themselves in all their rugged grandeur, range after range dipping behind the other as far as the eye can see.
---